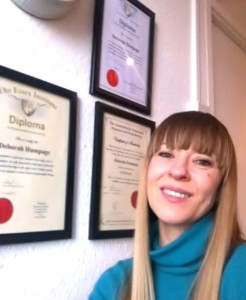 DEBORAH HUMPAGE, D.Hyp. LAPHP
Complementary & Natural Healthcare Council Registered Number: 000047-L14
Please click on the following link to take you to the CNHC website to search for my detail and verify my registration:
http://cnhcregister.org.uk/newsearch/index.cfm
Deborah is a fully qualified Clinical Hypnotherapist and Hypno-Analyst. Deborah studied at the prestigious and renowned college, The Essex Institute of Hypnotherapy and Psychotherapy. Her range of skills, life experience and training means Deborah can provide a truly holistic approach to your presenting concerns. She is also a member of the highly regarded professional bodies, Association of Professional Hypnosis and Psychotherapists (APHP) and Complementary and Natural Healthcare Council (CNHC) .
Deborah's naturally caring and empathetic nature ensures a non-judgemental, friendly and fully supportive rapport with clients. Deborah prides herself on providing a professional and strictly confidential practice. You can be assured that during your appointment, you will receive full attention from your Hypnotherapist, underpinned by her pledge to helping you to release the emotions and behaviours that no longer serve you well.
Committed to Continued Professional Development (CPD), so you can be confident and assured that your Hypnotherapist is well versed and qualified. Deborah also follows a strict code of professional conduct as set out by both the APHP and CNHC.
Like some of you reading this, Deborah has direct understanding of trauma and its devastating and sometimes lasting effects on human lives. It can affect us emotionally, physically and spiritually. Sometimes, we are not consciously aware of the effects on us of stress and/or traumatic life events. Indeed, research has now proven that negative emotions can be held at a cellular level. Over time, if not released, the imbalance within our cells can manifest at a physical level causing us physical ailments. Supporting the theory that the link between our emotional state and our physical wellbeing is intrinsically linked.
Following her physical healing from a traumatic head on car collision in the nighties, Deborah experienced the health benefits from Hypnotherapy and other alternative/complimentary therapies. Deborah began practising yoga, meditation and breath-work…disciplines she continues to practice today. It was nearly 20 years ago that Deborah first encountered the wonderful and transformational emotional effects of Hypnotherapy first hand. Deborah continues to have a keen interest in the power of the mind and holistic healing and its effects on our bodies and our lives.
Deborah is a member of the following professional bodies:
Association of Professional Hypnosis and Psychotherapy (APHP)
Complementary & Natural Healthcare Council (CNHC)
The APHP was instrumental in the introduction of the Core Curriculum for Hypnotherapy Training Schools as well as the latest revisions to the National Occupation Standards for Hypnotherapy. It has been and continues to be an informative influence in the world of professional hypnotherapy and psychotherapy. All APHP members are guaranteed to have undergone thorough training with schools who comply with or surpass the National Occupational Standards for Hypnotherapy.
The CNHC register is approved as an Accredited Register by the Professional Standards Authority for Health and Social Care.  This provides additional assurance that CNHC registered therapists meet the standards of patient safety and service quality.  The Department of Health recommends that where people are looking for complementary healthcare therapists they use someone who is CNHC registered.
CNHC registration is recognised with a number of private health care plans for reimbursement; such as Health Shield, Simply Health & a number of specific employer plans with Westfield Health. This means if you are a member of a relevant plan you can claim for the cost of your Hypnotherapy treatment.  Please see the specific detail and/or terms and conditions of your plan regarding the actual amount you can claim.
Qualifications, Certificates and Training:
Diploma in Clinical Hypnotherapy
Diploma in Hypno-Analysis
Qualified in Hypnotherapy Suggestion based therapy
Emotional Freedom Technique
Eye Movement Desensitisation and Reprocessing
Mindfulness Meditation
Completion of Part 1 & 2 Kriya breathing technique from Art of Living, India
Life Coaching
Deborah is fully covered with Professional Liability Insurance.